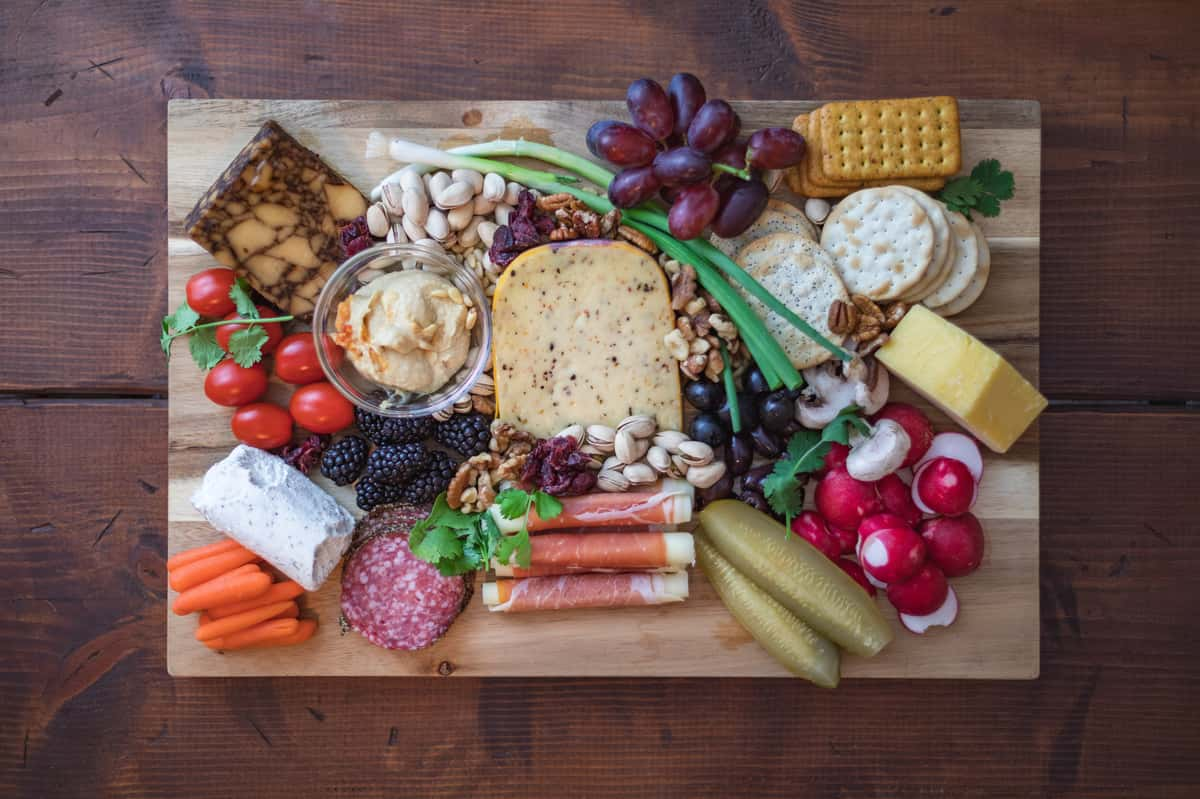 The Name Story + Background
The Name Story + Background
Warning: this post is kinda long. Buckle up.
"Where did the name come from?" — the question myself and my staff get asked multiple times weekly. Here's the story.
I worked in the hospitality industry for a long time when I was younger. My first job was working in a camp cafeteria (16 year old lunch lady!). Then to Casey's, S E V E R A L restaurants and bars, a coffee shop, McDonald's overnights for a very short time (that is HARD WORK, folks!)… Honestly, I'm probably leaving something out. The point is, I worked in hospitality for a long-ass time. In that time, I discovered cheese boards and antipasto platters.
I was living by myself and [SIDEBAR] I love love love to host parties. It gives me NO anxiety aside from the ever-present fear that I'm not going to get enough food and booze to satisfy my guests. I ALWAYS overbuy. So I'm living alone, having friends over, slapping together these very basic trays of food. Here's what was included in the first one (ready?) hummus, cheddar cubes, asiago, ham cubes, Ritz crackers. I want you to know that I don't think ANYTHING IS WRONG with that combo. I am by no means a food snob. Give me aged, unpasteurized cheese and cured meat or give me a Whopper. I like almost all food. My point is, my Grazing Boards had a very meager beginning to say the least. Over the years, they got more and more elaborate and in that time, I discovered Instagram hashtags. It opened up a WHOLE. NEW. WORLD for me. Grazing Boards, Tables, etc.! Oh my gosh, this is a THING! People have BUSINESSES that revolve around arranging delicious, whole foods. Holy moly.
For several years, I continued to make larger and better and prettier and foodie-er boards. I continued to take pictures of everything I love (kid, chickens, dogs, husband… and my boards) and post them on Instagram. I met some really cool people in different corners of the world who had used the same hashtags I had used for random interests. I loved it. And I had no plan at that time to monetize it.
And then one night in mid-November 2017, I had a dream that my sister-in-law, Emma and myself started a catering business called Sisters in Cheese. Yes, y'all. It was a literal dream. My subconscious had to point me in the right direction because my wide-awake brain had already talked me out of it. And THEN, for two weeks, we LAUGHED about it! I still was unable to accept what the universe was screaming at me — YOU ARE RIGHT ON THE EDGE OF FINDING A PURPOSE.
So yes, I waited the two weeks to take it seriously. Emma and I came up with a little jingle because we're goofy SOBs. But once the laughter and ridiculousness wore off, I realized I had something here. Emma and I decided very early that it was a bad idea to mix our friendship and family with the business, so Sisters in Cheese became a one-woman show. I kept the name. It has evolved so much, but as it stands now, I like to tell people "We're all Sisters in Cheese!".
I started the paperwork (and there is A LOT of paperwork) to get this thang rolling and had found a commercial kitchen to rent, registered my trade name, opened a bank account, and gotten my catering license by April 2018. Seriously — this business is a complicated one sometimes and just getting started is terribly daunting. I had so many breakdowns during that process. I cried so much. I drank even more than I cried. I told my husband at least 100 times that I was completely incapable of this and he rolled his eyes at that sentiment so much I'm surprised they didn't stay that way. But I want you all to know, my usually even-keeled very calm husband even had times when he got SUPER pissed at the application for my license. So yeah, it was rough.
But we made it.
I spent the next several months being a momma to a baby girl and my son who was in kindergarten, being a wife to a man who had his own business, as a full-time employee at a printing and design company, and being the owner of a little tiny business that was growing faster than I could have even imagined. I was EXHAUSTED but I was also more full of life than I had been in a long time. I finally (at 33 years old) knew what I wanted to do with my life. Or at least part of my life. This is something I was always okay with never knowing, so finding my purpose was a beautiful shock.
I worked at my full time job, trying to juggle IT ALL until one day, my fam and I were walking through Menard's and I had just posted something about Thanksgiving orders. My phone was nonstop buzzing and dinging with requests for orders. Initial reaction: elation. Minutes after initial reaction: pure terror. We got into the truck and Dan looked at me and said, "You can't do both anymore". And that was that. I put in my notice the following day and went full time with this business. And it's a good thing I did, I'm pretty sure the 2018 Thanksgiving orders almost killed me. I could not have handled both.
Just when I thought I'd gotten my feet under me and had so much time to make this work, we realized we needed a bigger kitchen space and ideally, a storefront for pickups. The search for a brick and mortar began… and then very quickly ended. We found a space that used to be a BBQ restaurant in our hometown of Madrid. It was adorable. It had what we needed and more and we were sold. We moved in and had our inspection in April of 2019 and hit the ground running with the restaurant after that. Because (and this is a real quote) "Why not make a few sandwiches while we're making Grazers?". Ha! Like that's easy or something. It was NOT a typical restaurant opening. I didn't have every resource at the beginning. We just had what we had and we went with it. And it worked. I believe that it's been a positive addition to our community and we are SO LUCKY to be a part of this community.
Here we are in almost-March 2020. We are working on year three. And if you know restaurants, you know that year three is major. This business has changed my life. I forgave a lot of people (including me). I love being within the walls of that place so much. I have to constantly push my boundaries and move out of my comfort zone. I had to teach myself to be assertive - I've always been more of a gentle giant… Every day I have to admit to everyone around me that I just don't know what I'm doing (I say this constantly). And the family that has formed around this business… they're incredible.
I am unapologetically writing this because we get asked constantly about the back story of the biz. And it's a LONG one, but I think it's a pretty good one. And hey, y'all. If you're dreaming and you're fighting your own dreams, maybe start leaning into them a little and see where it takes you. I promise, there is 100% no reason in this universe that you will regret exploring your passion, even if you don't know what you're doing.